—CODE 1000'S CAN BE CREATIVE!—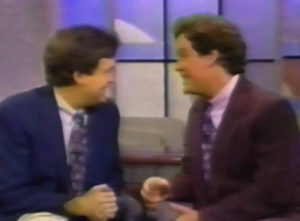 We call it a "Code 1000". It's a mention upper management wants you to include in your newscast.  It might be a charity event the station is sponsoring that they want you to shoot and mention in a :30 voice-over at 11pm.  Or maybe  they want you to promote a free flu shot giveaway the station's part of at the Walgreens down the street. Or it could be something as obvious as promoting a Cheers marathon happening this weekend now that the station has bought the syndication rights to the sitcom.
Yeah, when you get a Code 1000 in your e-mail, you just have to grin and bear it. Or do you? When I showran The KTLA Morning News, we did, in fact, get a Code 1000 to promote the stations' Cheers marathon. Now, I could have whined and complained and begrudging written a twenty second VO for the damned thing. Instead, I delegated the job to Sam Rubin and our Great Director, Lenn Goodside, asking them to "do something with this" and, man, did they "run with the ball"…
That's how you turn a Code 1000 into an "event" in your newscast. The station manager is thrilled because you promoted their marathon, Barbara, Carlos and Mark had a field day on-air ribbing Sam about his moment of "self love". Sam was in seventh heaven, needless to say, and the viewers were mesmerized by the whole spectacle. A win, win, win, win for everyone.  You've got to look for opportunities everywhere – even in an annoying must-cover! Turn it into a win!