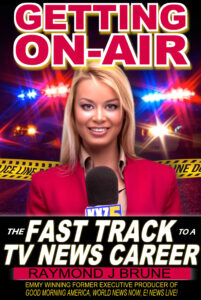 Whether your goal is to be famous, to be powerful, to be rich, to make a difference or all of the above, you can find it in TV News. Competition for jobs as a news anchor, TV host, reporter, sportscaster and weatherperson is fierce. To get one, whether locally, on cable or a major network or on-line and OTT formats, you need an action plan. That's what "Getting On-Air" does for you. It puts you on the "fast track" to a TV news career.
You don't need supermodel good looks, you don't need a fancy agent, and you don't need to have a relative in the business. What you must have is a do or die attitude, a killer resume reel and most of all, you need to be compelling on camera. Those three qualities are your ticket to the on-air ride of a lifetime – the hair-on-fire, fly-by-the-seat-of-your-pants, breaking news world of TV journalism.
No one is more capable of getting you noticed than veteran TV producer Raymond J. Brune. He put E!'s Giuliana Rancic on the air, and discovered The Bachelor's Chris Harrison. The first time Anderson Cooper and Robin Roberts sat in network anchor chairs, Ray was their producer in the control room. Ray's resume includes jobs as Executive Producer of "Good Morning America" and "World News Now", Vice President of News for E! Networks and VP & GM of Fox Sports, and creator and showrunner of the highest-rated local morning show in TV history, Los Angeles' "KTLA Morning News". He even produced Jerry Springer when both were starting their TV careers in Cincinnati. Ray turns everyday people into TV personalities. He shares his secrets in this book – and if you follow his advice, you will be "discovered".
Look what the top TV talent in the country are saying about Ray and his book:
"If you want to work in TV news, forget the graduate degree….buy this book!"
– Bobbie Battista, CNN Anchor
"Ray Brune is the greatest producer in the history of the world. He's very talented. I'm glad his career took off. He's doing something respectable. Look at me. Huh?"
-Jerry Springer
I worked with Ray at E! and always appreciated his invaluable creativity, experience and insight for our news coverage. His warmth and kind way of working with people made him that much more of an asset."
-Samantha Harris, Host of Dancing With The Stars"
"You got it out of me, Ray is resposible for my entire career"
-Chris Harrison, Host of The Bachelor
"Funny you should say that, cuz he's responsible for my entire career too!"
-Giuliana Rancic, Host of E! News Live!
I met Ray Brune while I was hosting Merv Griffin's Crosswords. His knowledge, experience and expertise were invaluable to me during production. His unique blend of instruction, advice and humor helped me to relax and focus on what really mattered. Anyone who's fortunate enough to work with Ray is sure to come away from the experience a more polished and seasoned professional."
-Ty Treadway, Soap Star and Host of Merv Griffin's Crosswords