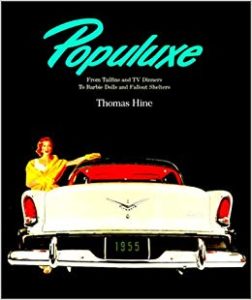 When you combine two words, "popular" and luxury, you create "Populuxe". It was a consumer culture and aesthetic in the U.S. in the 1950's and '60's. The look and feel of Populuxe was one of futuristic and Space Age influence. You can identify the Populuxe movement in films, graphics, clothing designs, furniture, interior design and architecture. And nowhere is it more on display than a few of the short films I've collected below.
"DESIGN FOR DREAMING" (1956)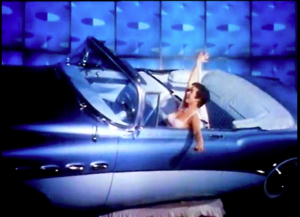 First is Design For Dreaming, a film which was shown before the feature film at movie theaters across the country. It was created to highlight the General Motors Motorama of 1956, the Waldorf-Astoria Hotel in New York and new Frigidaire appliances. Tad Tadlock, a dancer and choreographer plays the woman caught in pink pajamas going to the Motorama. Her masked suitor is dancer and choreographer Marc Breaux. The film is an over-the-top, dream-dance piece of puffery which is why it's so fascinating to watch. Directed by William Beaudine and produced by Victor Solow for MPO  Productions, it's once of those productions I wish I had a hand in producing. I've acquired a breathtaking print of the film you won't find on YouTube. Favorite Populuxe line of dialogue: "Better get her into the kitchen, quick!" Enjoy.
 "ONCE UPON A HONEYMOON" (1956)
Following on the heels of Design For Dreaming is the musical fantasy film Once Upon A Honeymoon. This Populuxe film is an advertisement – see if you can figure out what for. It stars Ward Ellis as Jeff and Virginia Gibson as Mary, anxious to start their honeymoon – but their plans keep getting dashed because Jeff is committed to writing songs for a musical production. Having songwriters block, a guardian angel, Chick Chandler, is sent down to Earth to help Jeff come up with the hit song A Castle in the Air.  Directed by Gower Champion and produced by Jerry Fairbanks; Favorite Populuxe line of dialogue: "I want more wishing in 'The Wishing Song.'" Here's a decent print of Once Upon A Honeymoon.
Once Upon A Honeymoon was produced to promote Bell Telephones, available in a variety of colors to match the Populuxe decor of any room in your house. A very subtle sales job on this one. Another favorite of mine.
"A WONDERFUL NEW WORLD OF FORDS" (1960)
Fast-forward four years to 1960 to check out the new models Ford is selling. This Populuxe-style advertisement, which also ran in theaters, must have been spectacular to watch on the big screen, especially in color since most advertisers hadn't made the switch from black & white yet. This film was produced by J. Walter Thompson Advertising for Ford's line of consumer and commercial vehicles, tractors, auto parts and dealerships. Favorite Populuxe lyric: "The last word in wish-it-were-my-cars." Another treasure from another time and place.
"A TOUCH OF MAGIC" (1961)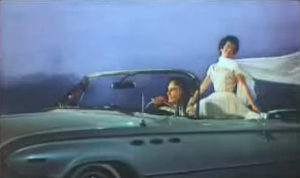 A Touch of Magic is another Populuxe Motorama musical. It was produced and directed by Victor Solow who produced Design For Dreaming. But despite the opening song about magic, it's in short supply in this production. Produced in a rather Disneyesque fashion, it's a cult classic starring Tad Tadlock again, this time joined by James Mitchell who's biggest claim to fame was playing Palmer Cortlandt on All My Children. But similar to the 1961 Cadillacs, this film is somewhat of a disappointment for fans of Design for Dreaming. Worst Lord Byron rewrite: "She walks in beauty like the night, she rides in Buicks like a bird in flight."
"THE PRINCESS AND THE PAUPER" (1939)
Created by Jim Handy and produced by Chevrolet, this 1939 Technicolor theatrical cartoon was played in movie theaters preceding the feature film.  The highlight of the film is when the magic carpet is transformed into a Chevrolet and the villain is defeated. Several of the characters are mildly racist in the way they're exaggerated. It features Nicky Nome, an animated character who also appears in the two Cinderella cartoons below.
"A COACH FOR CINDERELLA" (1936)
A Technicolor animated cartoon based on the Cinderella fairy tale, A Coach for Cinderella is one of two Cinderella adventures promoting Chevrolet automobiles. In this film, Cinderella arrives at the ball in a carriage revealed to be a Chevy, but the rest of the story is told in its sequel, A Ride For Cinderella which follows. Directed by famous animator Max Fleischer and produced by Jam Handy, this film was released to theaters on September 24th of 1936.
"A RIDE FOR CINDERELLA" (1937)
In this 1937 sequel by the same producers, Cinderella meets her young prince, but must leave him before the clock strikes midnight. The day is saved by a Chevrolet sedan which helps Cindy snag her pesky prince and thwart her evil stepmother and stepsisters. I suspect this is then the part where they live happily ever after – as long as they bring their coach in for service every 15,000 miles.