Two television treasures here from the golden age of local TV. I found these films just the other day and couldn't wait to get them on-line for you to check out. I've never seen either presentation before but both films highlight independent station KTLA as a true forerunner in early television production from back in the day when owned by Paramount Studios. These are priceless portraits of local TV's "coming of age" and the pioneers who put it all together. 
"THE GOLDEN YEAR OF PROGRAMMING" (1962)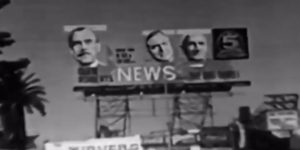 This presentation is a genuine rarity I just happened to stumble across. It was a presentation for potential advertisers – but all these years later, it's a rich, behind-the-scenes scrapbook of KTLA-TV back in the days when it was still owned by Paramount. The film starts out as an "up front" type  gathering of television advertising executives with a comedy routine by character actor Cliff Norton. He's in character as Lester Sherborne trying to convince advertisers to spend their money on KTLM, or LAKT or KLTA's programming. He's actually quite funny.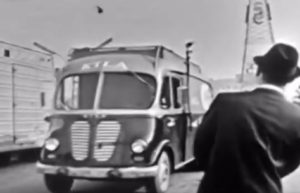 From there, voice over announcer Del Moore takes us on a trip through KTLA with comedy provided by Ernie, a harried time buyer (Cliff Norton). We're shown the stage where Al Jolson starred as The Jazz Singer, in the largest production studio in the world. The station's telecopter is put to good use showing off the sights of Los Angeles, and we see an army of vehicles KTLA owns that are used for news coverage and programming events. We meet news anchors Clete Roberts and Bill Stout, telecopter reporter Larry Scheer and even cub reporter Stan Chambers on the ground reporting "live" from the Bel Air fires.  A quick introduction to "aggressive" General Manager Stretch Adler and the sales team follows, and finally, a wrap-up from Cliff (as himself). The film is a spectacular time machine back to the KTLA of the early '60's and so worth a view.
TELEVISION SERVES ITS COMMUNITY (1960)
Talk about time machines! This film is presented like "a week in the life of KTLA" from 1960. It follows three programs in production. Get a glimpse of everything from the state-of-
the-art newsroom to the color cameras, the telecopter and the carpenter's shop where sets for live entertainment programs are being built. Watch the rehearsals for the Polka dance and the director blocking the shots for air. The film never actually mentions KTLA by name, but Channel 5 is written all over it. A must-see from a long-forgotten era in Los Angeles television.