It's absolutely essential that I point out to you moments on "live" TV that totally "nailed it" – when all the pieces come together to make an amazing TV moment. The clip I'm presenting today, which I would have given anything to have produced, I've watched dozens of times, examining every nuance that makes it so powerful. And I urge you to watch every frame again and again. This is how a director, a producer (to a lesser extend here), and the on-air players come together to create an amazing, incredible, emotional moment. Watch first, then I'll dissect.
That show, the 26th Annual Daytime Emmy Awards from 1999, was directed by Louis J Horvitz, who has directed countless awards shows including the Academy Awards, the Prime Time Emmys, and so many more. He's won many Emmy's for his directing, usually winning while he's actually directing the show he's won on! It was a Dick Clark Production.
The nominees portion and all the pre-publicity surrounding Susan Lucci's 19th Emmy nomination certainly help to build the tension to the moment when Susan is named the winner at this ceremony from 1999. Look at how totally "into it" Shemar Moore is when he first announces the category. When each of the nominees is named, the "slow, dramatic zoom in" to them is very effective. Shemar screaming that the "streak is over" and the very close closeup of Susan reacting with people jumping up and down in the background.
Her walk to the stage and the ultra-tight closeups of audience members in tears, the extended applause, the ultra-tight closeups of Susan – I have never seen the networks shoot this tight! The continued applause and the cut, cut, cut of shots by the director showing so much emotion. Look at how tight he goes in on Susan! Amazing! Susan's impassioned speech, which she gives so well, as if its extemporaneous, is very moving. Louis is truly a flawless director for he knows when to cut and just as importantly, when NOT to cut away from Susan. As I watch this, I'm seeing everything I want to see as the director is cutting it. When Susan says they're telling her to wrap it up, an amazing moment when the crowd screams "No" and insists she get more time!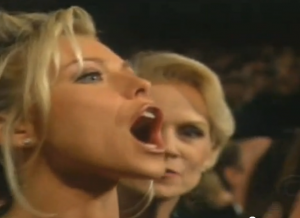 The cutway of Kelly Ripa saying "No" was a lucky shot and so "in the moment". Susan's talk about her children giving her gifts was priceless. And "going back on Monday to play Erica Cane for all she's worth" was an excellent closing line, followed by the audience going wild, standing and cheering.
I realize your newscast is not going to be directed like this. Heartless robocams – which have no understanding of shot composition or how closeups convey an emotion and make a connection with an audience – are running the show. So few crewmembers left. I've been quite successful in convincing my directors to work in "override"mode – which requires them to actually direct and not just press the spacebar. But those days are fading. Pardon my lexicalisation, but television news is becoming an automation schematisation. Viewers can't turn back. They can only turn away.
So savor these "hug your puppy" TV moments while you can! An amazing 7-minutes of "live" TV. Beautiful job Louis!