This week we celebrate the 29th anniversary of the (original) KTLA Morning News in Los Angeles – the Barbara-Carlos-Mark-Sam version was the highest-rated local morning program in TV history! This show provided me with so many life-long friends, a treasure trove of memories and videos, it brought me a mantle full of Emmy Awards and it bought me my first house and half a dozen cars! A few years ago, I wrote a book about my phenomenal experiences starting up the KTLA Morning News – Personality Driven – The Secret Sauce For Selling News.   On the off-chance that you haven't read it, I'm posting the first chapter here – all about the little show that  became a monster hit – completely by accident!
CHAPTER ONE
…LIKE NO ONE'S WATCHING
 Local news isn't rocket surgery. It's simply television. It's taking engaging personalities, putting them on camera, and having them tell stories – compelling stories that are sometimes funny, sometimes tear-jerkers, oftentimes tragic, but always relevant and authentic. That's it. Do that on any platform, and an audience finds you. Every time.
I know this to be true. I produced a newscast that – completely by accident – became a massive "hit show." No journalism-focused, integrity-driven news producer would ever equate their local newscast with the likes of a "hit show." I certainly didn't. But then a pattern developed. I had another hit show. And still another.  I always thought hit shows were scripted, prime-time network comedies or dramas like Seinfeld or This Is Us or even reality and game shows like American Idol or Who Wants to Be A Millionaire?  Those are hits. Who would ever label a lousy, little, local newscast a hit TV show?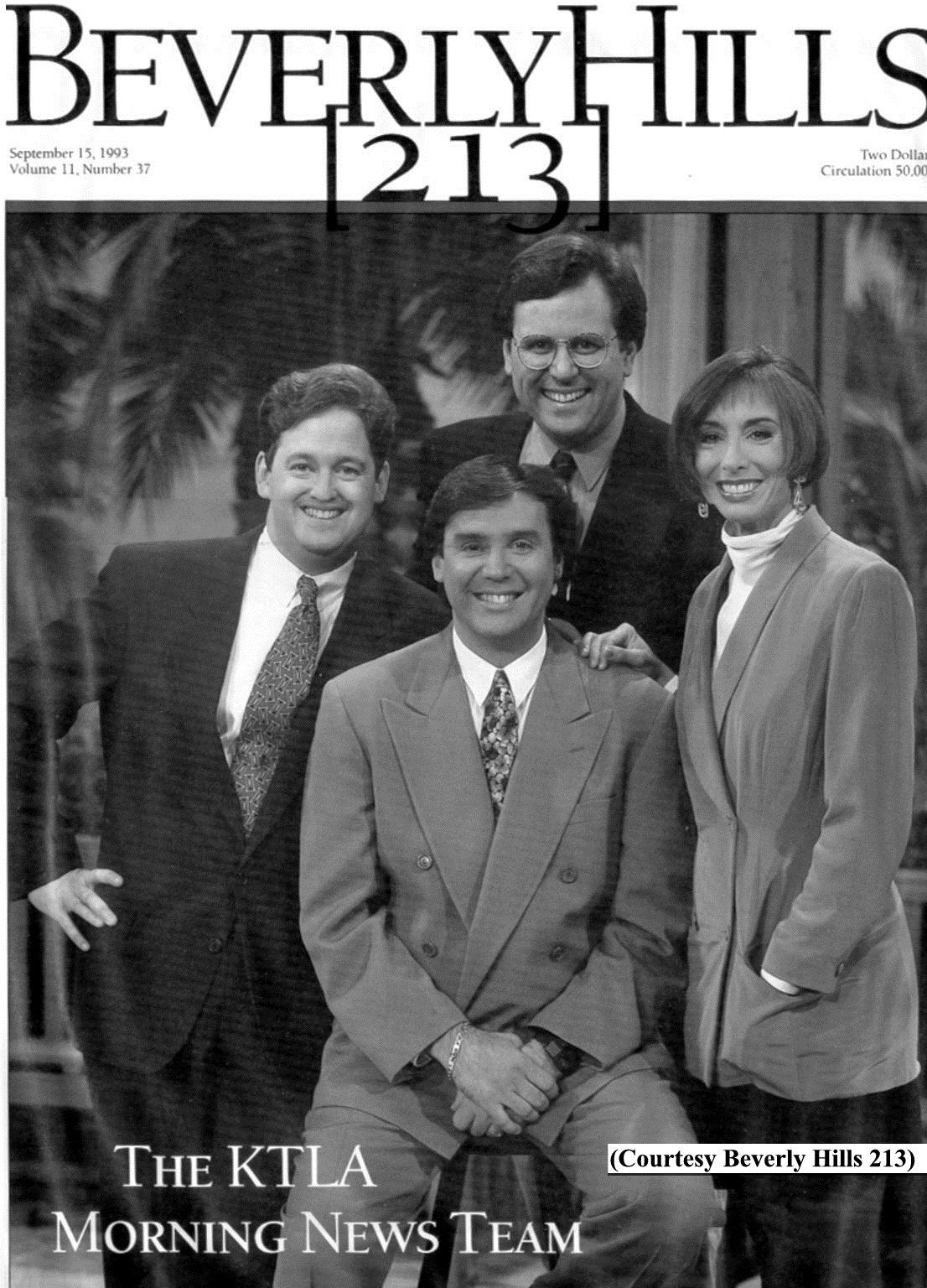 The two-hour KTLA Morning News (KTLAMN), which I was lucky enough to start up from scratch, create, staff, and showrun from 1991 to 1997 in Los Angeles, became the highest-rated local morning newscast in, well, the history of local morning newscasts – that according to John Reardon, former President & CEO of Tribune Broadcasting. But it didn't start out that way. This was a local, independent station airing old reruns of The Brady Bunch five days a week at 7AM. A lot of viewers were pissed off when Greg, Marcia and Peter were replaced with Barbara, Carlos and Mark.
Phase One of our start-up newscast was our Perspiration Phase. It began on July 8, 1991 when we hit the air. Barbara Beck, recruited from a Miami station, and Carlos Amezcua discovered in Denver, were in news anchor mode. They were reading the prompter, tossing to reporters Eric Spillman (imported from Vegas) and Michele Ruiz (from New York) on their daily live remotes, checking in with weatherman Mark Kriski (from some godforsaken town in Canada) and heading up to SkyCam5 for Jennifer York (from New York) with traffic. All of our talent were unknowns in Los Angeles. Most of them couldn't pronounce La Cienega Blvd. or the city of San Pedro. Everyone on-air was polite and professional. It was exactly what you'd expect of a local morning newscast just finding it bearings. No more, no less.
At the six-month mark, few viewers at home were NOT tuning us in. The ratings were hash-mark city. We were all sure the show was going to be canceled. Management was not happy – but – there for the hand of grace, they gave us the space to find our place.
Then came the beginning of Phase Two – the Desperation Stage. The news wheel we'd been running on like caged hamsters wasn't working. Arguably, our show looked just as good and was as competitive as any local morning newscast in a Top 5 market, but something was missing. The anchors felt it. I felt it.  Lenn Goodside, our director, felt it.
What happened next was either deliberate or completely unintentional – I can't remember which. We began to break rules. We began to bust out of our comfort zones.
We basically said, "What the fuck!"
The anchors began anchoring the show like no one's watching.
I began producing like no one's watching.
Lenn began calling the shots (literally) like no one's watching.
We found the courage to take some on-air risks never attempted before on a live, local TV newscast – because – what did we have to lose? No one was watching.
We were now doing the show for ourselves.
Eventually, the anchors just began talking to each other. They developed an irreverence sitting together at the "Altar of News," the revered news desk, like a bunch of kids misbehaving in church. While one anchor was reading a news story, the other would get caught on camera reading a newspaper with his feet up on the news desk, completely oblivious to what's happening on the show. They played the "underdog" card, comparing our lousy, little, local newscast to our direct competition, Today and Good Morning America and all the money those shows threw around. They read policy memos from the front office on the air – or bitched about the latest mandate to reduce the company's FedEx bill. They just swallowed airtime like it was their play toy.
I got a call one morning at 4AM in the newsroom from Sam Rubin, a Hollywood reporter I'd seen on a Joan Rivers talk show. He'd been watching the show at home and saw an opportunity. "Why don't you put me on to report some Entertainment News."
Well, what the hell! Can't be any worse than what we've got now. (That wasn't exactly what I was thinking, but you know what I'm talking about!) So, Sam joined the team. And with Sam came a host of celebrities we began booking as guests on the show. Fortuitously for us, it wasn't just any celebrities. There was a big mouth Don Rickles who complained about not getting paid to appear; a love-sick McLean Stevenson who was hitting on Barbara (in fun); and Richard Simmons, nearer my God to thee, RichardfrickingSimmons, who just didn't give a shit and did whatever the hell he wanted to do on-air.  They completely shed any semblance of decorum (especially Richard in those trademark shorts), holding us and the shows hostage to their headliner hijinks. It was all happening right before our eyes.
For me, the toughest part of this evolving show was "letting go." As the producer, I'm responsible for bringing the show in on time. I'm responsible for getting important stories on the air. I'm supposed to be steering this Titanic. But the anchors, well, I suppose there was a mutiny, and they took the wheel. I had to learn to give up the control I was used to owning and turn it over to them. I fought it for quite a while. Really hard. I was in their ears wrapping them up constantly:
"Gotta go."
 "We really have to move along!"
 "You guys need to wrap."
"Carlos, please shut them up and move to the next story."
 "Page A15 – 'Looking Ahead' is dead."
 "We gotta keep moving guys"
"Please wrap, we gotta hit the 8 o'clock open on time"
 On and on. I tried every tactic. Begging, pleading, yelling, guilting, bargaining. And reluctantly, acceptance. I went through the seven stages of grief right there in their IFB's.
Acceptance came after Barbara did something on-air that I will never forget. She looked straight into her close-up camera while talking – as if looking directly at me – and she pulled out the IFB in her ear! She was sick of hearing me wrap her over and over again! I was enraged – for about ten seconds. Then I realized we've got something good here. Just chill. And I did.
Lenn and I were constantly having to adjust to their on-air antics. I was still over-stacking the shows because, as a producer, you're terrified you're not going to have enough content to fill the hour. Trust me, that was never again a fear on this show! I was killing stories left and right – to give them more air time in the two hours – to keep this "work in progress" progressing. That's when the Control Room Paper Wad Wars of 1991 first broke out. We were throwing away so many paper scripts per hour in order to accommodate their on-air shenanigans, that we started crumbling them up and whizzing them at each other while on the air. The control room floor was regularly caked in paper wads for the next six years or so.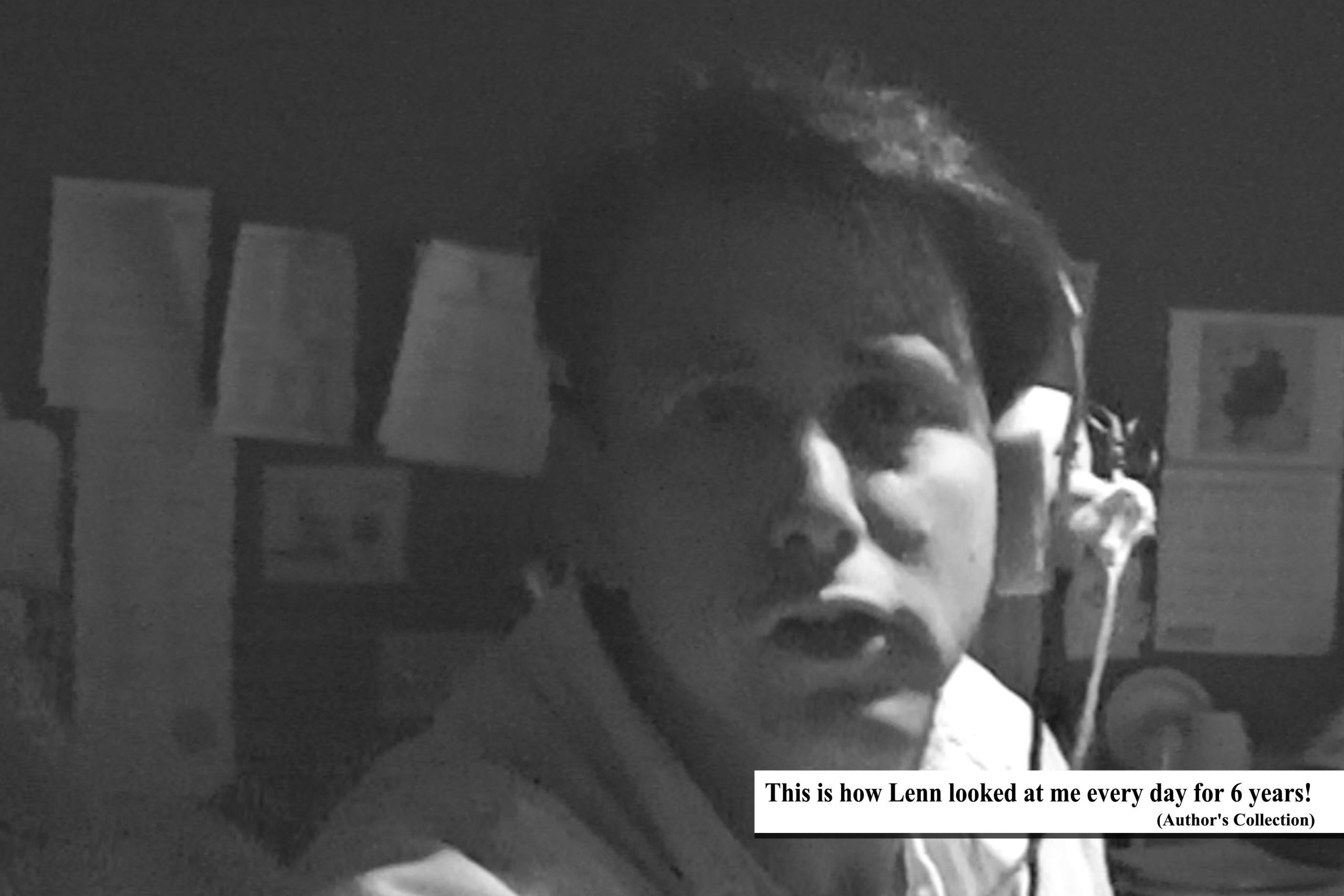 As a rule, I was now going into the show 20-minutes light. That basically means I was missing 20-minutes of content needed to fill the full hour. But no worries. All their ad-libbing, their unplanned moments, surprise guests – all the stuff that viewers eventually embraced about the show would easily eat up the missing time.
This was our transition to Phase Three – the Inspiration Phase. By this time, the show was really finding itself. Once we realized that this accidental format had legs, it was up to all of us to feed the beast – to keep it going. The show was a far cry from the serious newscast we initially had set out to produce. It was really watchable now. Our news coverage was solid. We never missed breaking stories. The anchors had truly evolved into compelling personalities. Director Lenn began shooting the show like a talk show rather than newscast style – meaning he would cut, cut, cut the cameras with the conversation – the close-ups just slightly closer-up than the old network style close-up every other show used.  He'd linger on some shots just a skosh longer than normal. He never missed money shots like Vice President Dan Quayle's surprise when he didn't realize he was on camera, or Barbara's face being stripped of makeup by an over-affectionate puppy. The accidental Signature Segments we began doing were fascinating – like using the superzoom on the chopper camera to peer into the windows on the upper floors of downtown offices buildings to watch people at work. We'd fly over the breathtaking estates of Beverly Hills and Bel Air and try to guess who lived there. And there was Filthy Backyards where we looked at all the junk in people's backyards trying to figure out what the hell that stuff was. There was all kinds of dancing on the set, in the newsroom and in the field long before Ellen Degeneres came along. But despite the proof that we were creating a really engaging show, the ratings didn't reflect that.
At least not until the final phase. Phase Four commenced unexpectedly on February 12, 1992 – our ninth month on the air. It was a rainy day in L.A. Assignment editor Toni Molle called me in the control room. She was hearing unconfirmed reports of some serious flooding in Ventura County, 70 miles north of us. The only way to check it out would be to send Skycam 5, the news helicopter which was used for traffic coverage every morning during our two-hour show. Now keep in mind, when it rains in Los Angeles, the freeways and surface streets are like ice skating rinks – car sliding everywhere from the oil and other engine fluids that had built up on the pavement. Rain is automatically the lead story. So, sending the chopper 45-minutes away was risky. If a big accident happened in L.A., we'd have no coverage. Toni and I ultimately decided to take the risk. And as I will show you over and over again, only with risk – comes reward.
Forty-five minutes later, we were "live" on the air with stunning, exclusive, first footage of flood waters racing through a Ventura County campground. News Photog Martin Clancey followed the surge actually pick up an empty RV, carry it downstream underneath the Ventura Freeway overpass where it was obliterated, its remains washed out to sea. We saw a rescue firefighter hugging a tree, trapped amid the muddy, raging waters. We spotted campers stranded on top of their vehicles with no escape. Our chopper pilot, John Tamburro, willing and able to make some rescues himself, was told to standby while Ventura County firefighters attempted rescues with their motor boats. This was, without question, the most jaw-dropping breaking news footage I had seen thus far in my career. And it was ours exclusively. The weather had closed in, keeping our competitors from getting their choppers over the area for hours. We sent Eric Spillman up with the satellite truck for his ground reports. Word spread of our live coverage and viewers by the thousands found us on that day with our kick-ass breaking news coverage.
This was our Saturation Phase. Viewers found us for the breaking news. They stayed for the personalities. Soon after, every day without fail for 14 consecutive sweeps periods, we beat Matt Lauer & Katie Couric on NBC's Today, Charlie Gibson and Joan Lunden on ABC's Good Morning America, and whatever doomed incarnation of the CBS Morning News was airing at the time. By no means did I achieve this alone. I had amazing bosses including Nick Van Hoogstraten, Joel (Mr. Tickets) Tator, Mark Sonnenberg and Steve Bell. I had the on-air dream team of Barbara, Carlos, Mark and Sam (among many others) – names you may have never heard of but are legendary among Angelenos – and a staff of some 50 sleep-deprived co-workers. Once the format just sort of found us, and each of us was able to define our individual roles, we became a motivated, stimulated, empowered and completely in sync morning monster.
You say, "So, what? That was 25 years ago."
True. The accidental "secret sauce" was first mixed together back in the early '90's, but I've had amazing success repurposing that sauce ever since – two more hit shows for Tribune, another with the creation of E! News Live and I even put a smidgen of the sauce in two prime-time reality shows I created and executive produced. I sat in the KTLA control room overseeing four "live" hours, five days a week, 52 weeks a year for 6 years as the show expanded to four hours (currently, it's on for 8 hours in the morning –  4AM to Noon!). I earned a Master of Arts degree in television producing at the University of KTLA – the hard way – I didn't study it – I lived it. I could write a book the size of the Bible on the biggest buzzword in the industry right now –  authenticity. The KTLAMN defined authenticity – something every TV host and news anchor is desperate to personify these days. I made hundreds of mistakes. I got lucky countless times. I took lots of risks – some paid off – others didn't. I experimented and jerry-rigged and explored and scrutinized. Every element in that show – the news coverage and story selection, the ad-libbing and unplanned moments, the outrageous and possibly illegal uses of the telephoto lens on the news chopper, the signature segments and surprise guests, the camera cuts and show pacing, the teases and the commercial break schedule – every piece of the program, no matter how insignificant, was tinkered with until it cliqued with the personality of the show – and with the personalities on the show. All four hours were fiercely formatted. Each individual hour – The KTLA Morning News – Early Edition (6-7AM), The KTLA Morning News (7-9AM) and The Morning Show (9-10AM) had a unique, fluid and ever-changing template. The template was the starting point in the morning when I began stacking the shows – and the first thing I'd do was violate every rule of that template. The irony is – when you watched the show, you'd think it was completely free-form, no format whatsoever, it just ebbed and flowed at the whims of the on-air team. I have well-earned lines on my forehead attesting to the fact that this ebbing and flowing was stressful as hell in the control room – and not nearly as whimsical as it appeared on the air!
Let me translate this "success" for you in cold, hard cash. In the first two years of the KTLAMN, Barbara, Carlos, Mark, and Sam made an average of roughly $80,000. I know – I hired them. (I don't think I'm violating any confidences here). OK, so $80k was a nice chunk of change in the early '90's as an anchor on a lousy, little, local morning show in Los Angeles, right?  Then…. wait for it… by year three, they're all up in the $750,000 range. That is not a typo, seven hundred fifty thousand fricking dollars! A zero was literally added to their salaries! The show was such a massive "hit" that paying our anchors those truly outrageous sums to stay together as an on-air team was certainly in the station's best financial interests. My salary doubled, then tripled by the third year – of course, so did the airtime we all had to fill as we kept adding additional hours. I was making more bank than I'd ever imaged any local station would pay a lousy, little, local news producer. The station was printing money – to the tune of tens of millions of dollars a year.
I suspect I've got your full attention now. And yes, I know what you're thinking. You assume I'm exaggerating the dollar amounts to make a point.
You anchors are saying, "That was just a fluke – No station is going to pay me that kind of money today!"
No. They won't. Not if you continue pulling in the miniscule number of eyeballs you're pulling in. But what if, after some format tinkering, some risk-taking and some attitude adjusting, you begin to double, triple, even quadruple your ratings? What if the news open rolls one day and you're suddenly anchoring a "hit" TV show? What if an audience finds you? It's entirely possible! It happened to me! When you capture eyeballs, the dynamic changes. Now the question becomes, "How much will it take to keep you?" For talent and producers alike, we're only as valuable as the audience we generate. There's lots of money in local news – when you find it – you'll be fartin' through silk!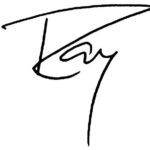 OTHER KTLA MORNING NEWS POSTS
Your Left-Brain Boss Is Killing Your Creativity
A Priceless Portrait of TV's Past!
Your Left-Brain Boss Is Killing Your Creativity!
They're All Gonna Laugh At You
Hysterical Press Junket Hijinks
A "Must-Cover" In Your Newscast