This is absolutely stunning! Samuel J. Seymour, at the time this episode of I've Got A Secret aired on February 9, 1956, was the last surviving witness to the assassination of President Abraham Lincoln.  Check it out:
Sam died two months after this appearance.  He was taken to Ford's Theater in Washington D.C. by his Godmother, the wife of his father's employer to see the play Our American Cousin.  They sat in the balcony, directly across from President Lincoln. Sam watched as the President arrived and waved and smile at audience members.
 "All of a sudden a shot rang out… and someone in the President's box screamed. I saw Lincoln slumped forward in his seat."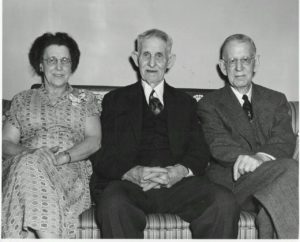 The five-year-old Sam watched as John Wilkes Booth jumped from the box to the stage. He remembers being very concerned for Booth, not understanding what Booth had just done to the President. Booth broke his leg in that jump.
I realize that Sam was very old, hard of hearing and had difficulty speaking during his appearance on the show. But I'm just mystified why they didn't spend a little more time with him discussing his memory. I realize this isn't a talk show, but here's the last surviving witness to one of this country's most tragic historical events, and host Gary Moore spent more time discussing Sam's fall when he arrived in New York than he did on Sam's recollection of that fateful day.  The good news here is that R.J. Reynolds, sponsor of I've Got A Secret,  gave Sam a can of Prince Albert pipe tobacco instead of the usual carton of Winston cigarette because Sam smoked a pipe.