-TV TEEMS W/GENERIC REPORTERS-
I'm astounded on a daily basis how the majority of TV field reporters are content being anonymous, generic purveyors of facts and information – as generic and anonymous as the fake reporter in this stock photo!  Watch reporters on any station in your market – they'll do a "live" hit – then throw to a package that isn't the least bit memorable or in any way stylized. Their live shots, their standups, their writing and their producing  does absolutely nothing to make them stand out from the parade of generic reporters airing on TV every minute of every day.
Also notice how anchors NEVER ask questions to the live reporters. Know why that is? Some news directors have determined that viewers want a quick, upbeat pace, and questioning a reporter, which allows them to express some personality and camaraderie with their anchor, is verboten because it drags down the newscast!
Watch ABC's World News Tonight where David Muir swats off his reporters as if they were Zika-carrying mosquitoes.
It's quite funny once you get over how sad it is that networks buy into this "blow 'em off" b/s.  Perhaps in the Walter Cronkite era, robo-reporting was chic with every reporter wearing the same blue Eyewitness News blazer. But if you want to be successful in this industry in 2019, you need to be unique in your own authentic way.
I've compiled a few clips showing reporters who own their daily three minutes, whose approach and attitude are all their own. They've created a unique on-air identity that viewers remember. Viewers actually look forward to their reports because they've become "signature segments" in a newscast. Here's what to watch for:
Tonya Francisco – Tonya is my favorite reporter at the moment. She's an anchor and general assignment reporter at WGN where she often works the morning shift. I've included two weather-related "live" shots here. She's got a style all her own. She's got attitude – which is so essential these days, and she's very warm and likable on camera. So important!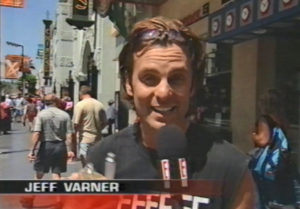 Jeff Varner – Jeff worked with me a E! News Live shortly after his gig on Survivor. His specialty became memorable man-on-the-street interviews. Here are two of them. As you watch Jeff, you'll see he's fearless, he'll approach anybody but is also approachable, and just having a good time. It's true thought that he does dislike Simon Cowell something awful! Jeff went on to anchor news in several markets across the country.
Myreah Moore – We gave Myreah the role of movie reviewer on E! News Live.  With the help of producer and attitude-dripping writer Stephanie Glenn, Myreah found her niche.  Her reviews are brilliantly stylized to her personality, and that's what it's all about.
Barry Mitchell – What can I say about Barry Mitchell – ABC's accordion-carrying news commentator? He carved out a place for himself on World News Now, the overnight newscast I executive produced. He combined his comic abilities from doing standup, and his accordion playing skills to create his role as a comedic commentator on the show. The piece included here is from  the 20-year anniversary special for WNN. Watch how he's able to get celebrities involved with his schtick! You can send him anywhere and he'll come back with a story – or a song!