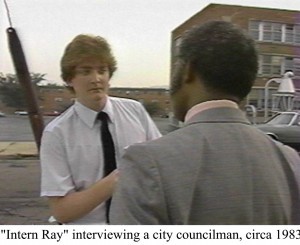 I've never told anyone this – only family members know – but I did not attend the graveside services for my father back in 1983. I went to the funeral and church services on that Saturday, but the burial was on Sunday at the same time I was supposed to report to WLWT for my first day as an intern. There was absolutely no question in my mind where I was supposed to be on that day.
I suppose I could have postponed things for a day or two. Rick Willis, the Assistant News Director called me the previous Wednesday, about an hour after my father passed away, to tell me that my start date was on Sunday. I didn't tell him my father had just died in his bed, in our house, in front of me, moments ago, after a terrible, three-year painful ordeal. He would have surely pushed things back a week or so. But I somehow knew that doing so would push back my "coming of age". The simultaneous burial of my father and my walking into Channel 5 for the first time was the exact moment I became a man.
If I recall correctly, my first assignment was phoning the various police departments around town to see if anything was going on. Nothing was. So I helped out Tom Craig with other duties on the assignment desk. On the multi-line phones was a typed up list of the last names and home phone numbers of the newsroom staff. I remember thinking, "God, I can't wait until I'm important enough that someone would need to reach me at home."
I then went back to editing to watch weekend anchor Michael Collins as he was editing a story he had just shot. It was his first day at WLWT as well. He played back an interview with a city official and then asked me where the soundbite was. I had never heard the word "soundbite" before, despite my college education, but quicky surmised it was the most important 15-seconds of what the talking head said. I chose the correct soundbite – purely by luck – and by pretending I knew exactly what I was doing.
I think it was LaRosa's pizza I brought back for lunch after the 6pm edition of Action 5 News wrapped up. Michael, his co-host Robin Phillips, "bright eyes" as I would come to call her, and weekend producer Jeff Hildebrant, who intimidated the hell out of me, all sat in the producing area discussing the 11pm show. I walked back to the kitchen area where the vending machines were to get everyone drinks. The TV monitor was airing an episode of the NBC series Voyagers. I remember thinking, "I belong here".
And I did. My internship lasted a good two years. Not because that's the way it was set up, but because I didn't tell anybody when it was supposed to be over. I just kept showing up, going out with the photogs on spot news stories, getting soundbites with the mayor, writing packages, logging Bobbie Battista's stories on CNN. I was working with Richard Hull, Jerry Springer, Norma Rashid, news director Bob Yuna, Northern Kentucky Reporter Clyde Gray and My Child Is Missing correspondent Toria Tolley-Hammill, Cincinnati's first anchorwoman legend Carole Wilson, producer Tish Armentrout, photogs Lori Bullerdick and Greg Rahe. There were 6's and 11's and noon's and Today Show cutins. There were beat up old gray news vans with giant Action 5 News logos on them and live shots and satellite downlinks and teleprompters and control rooms. Leave? Security would have had to drag me out of there before I'd ever let on that my internship ended more than a year ago.
Finally, the words I waited to hear. Tish said them first. "Rayjay, we need to hire you!" And they did. And getting my last name and home phone number added to that staff list taped to the assignment editor's phones was a far bigger thrill than receiving my first paycheck.
Without even being consciously aware of it, I approached this internship with a firestorm of passion – passion I had never given to anything else thus far in my life. Right or wrong, I even dropped out in my last semester of college so I could devote all of my attention to WLWT. I urge the interns of today to do exactly the same (except for the dropping out part). Bring passion and determination to your internship. Ask thousands of questions. Go out on assignments. Set up live shots. Insist on writing some stories. Ask to do all the things that aren't expected of you. Taste the industry.
I've seen countless hundreds of interns come and go in the various newsrooms and offices I've worked in over the years. And of those, I'd guess I hired 1% of them to full time staff positions. I am always fascinated by the interns who plop themselves down in a newsroom and do nothing but surf the internet – as if living out their sentence until their time is served and they can get enough credits to graduate. It's as if they resent the fact that they are, essentially, "free help" and will do no more than what is asked of them. It's mind-boggling how they are literally throwing away the opportunities that are right in front of their eyes. If I was starting out in this industry today, I would take the exact same course of action. Every newsroom is understaffed (or, at least, perceives themselves to be). Most solid assignment editors and producers are willing to take a risk and let an intern go out with a photog (or alone with a camera) and get a story that you'd otherwise not be able to cover. When you've got a news hole to fill, free help is just as good as the paid kind.
That's my 5-cents worth of free advice. Approach this industry with passion. It's getting more and more competitive all the time. Passion is in short supply and it's always snapped up quickly when found. (And yes, on the memo below, I think that is the original pizza stain from LaRosa's on my first day!)