THE "SOY BOMB" CRASH & BURN
Taking risks is the sure-fire path to rewards. I don't think anyone will disagree with me. But taking risks also means that sometimes, things don't pay off. Things don't go as planned. What you saw in your head when planning your next amazing segment is NOT what you ended up seeing on the line monitor.
I've had my share of, what shalI I call them? Disasters? Catastrophes? Crashes & Burns? I've led my show, my anchors, my director, my staff and my viewers bravely into every one of them. Shit happens. If you aren't faltering now and again, you're not moving forward. And now that I think about it, I can't name too many crashes & burns that stick out in my mind from the 15,000 hours I was in the control room with a "live" show. With the luxury of another show tomorrow, you just keeping plowing ahead and setbacks are soon forgotten.
Except when you're the new Executive Producer at Good Morning America Sunday. And you're really trying to lift your show out of obscurity and get viewers (and network bosses) to notice. I had been hired by ABC from KTLA to essentially turn its shows into lighter formats along the lines of the The KTLA Morning News. The plan was this – my first stop was the #1-rated overnight show, World News Now (WNN). I would then move on to GMAS and then onto the weekday GMA.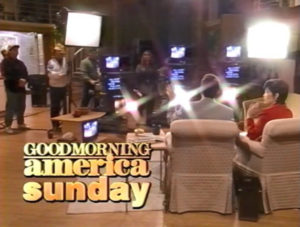 After six months at WNN, I was moved to GMAS. My anchors were Bill Ritter and Willow Bay. They'd been hosting the show for a while, a typical mostly-serious newscast. We had one hour of airtime a week, I think from 7-8AM Eastern on Sundays, but it aired throughout the country at different times in each market. The biggest obstacle I faced was the fact that we were only on-air once a week, so we didn't get a lot of opportunities to try things out and consequently, change was very slow in coming. I think by the fifth or sixth show we hit a stride.
But that soon ended when Willow announced she had accepted a job at CNN. I would miss her – and the progress we made. And I would miss the weekly Sunday green room facetime I got with her husband, Bob Iger, who went on to become, what, the most powerful man in the Western Hemisphere? Every week following Willow's departure, we would have talent from all over the company fill-in as co-host with Bill. One of them came from ABC-owned ESPN. Robin Roberts.
I cliqued instantly with Robin. She was up for the looser format we'd been producing and she had the best and most capable co-anchor in Bill. The pair did several shows together including one on Super Bowl Sunday where we had a tailgating party in the studio, complete with a vintage station wagon, food galore and singing sensation Billie Myers performing her hit, Kiss the Rain.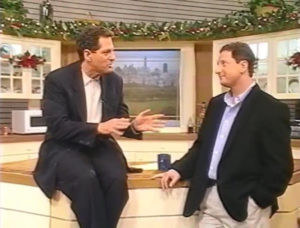 Bill and Robin were throwing a football around in the studio – it was, by far, the most relaxed of any GMA show done up to that point at the network. The following Sunday's show also went well. There was one teensie issue though. I had Bill sitting on the counter of our kitchen set doing a tease. The following morning, I was called on the carpet.
"These are ABC News anchors. You can't have them sitting on kitchen counters!"
Got it. No more kitchen counters.
The following Wednesday, CBS televised the 40th Annual Grammy Awards which were held at Radio City Music Hall. That particular show is infamous for one unscheduled performance that happened during the telecast. As Bob Dylan was performing Love Sick, a guy jumped on stage, ripped his own shirt off, and began wildly dancing right next to Dylan. This dude had the words "Soy Bomb" painted on his chest. Dylan continued to perform, seemingly unphased by the spectacle. This guy was on stage for 35-seconds before being removed by security. It was scandalous and all anyone was talking about the next day.
I had a brilliant idea. Let's track down Soy Bomb and have him race onto the GMA set Sunday morning during the opening of the show, cause a diversion, and then head off. We'd then talk with him later in the show about why he did what he did at the Grammys. OK. Robin and Bill were on board, and so was ABC News correspondent Robin Young, who would be next to them on the couch when all this goes down. I met with Mr. Bomb beforehand to go over what I wanted him to do. I felt relatively assured that he was going to play ball with us. I didn't want anything unexpected to happen – I mean, this guy, after all, did stage rush Bob Dylan "live" on national television. And here I was handing him a second "live" opportunity. What the hell was I thinking?
The news open rolls, Bill welcomes Robin back as a guest co-host for another week, and then suddenly, some weird industrial music is heard as Mr. Bomb runs on stage with a boom box. He's wearing pink pants and a sheer cape-type thing with his chest exposed underneath and a feathery boa around his neck. Two big blotches of fur are attached to his face.
OK. A little bit bizarre, but let's… let's… let's… let it pp ppplay out.
Mr. Bomb is carrying a plate and stands between Robin and Bill, saying nothing. He just begins eating some white stuff off his plate. Robin figures out he's eating soy. When Soy continues to say nothing, Bill jumps in explaining that Soy, his real name Michael Portnoy, is the guy who disrupted the Grammys this past week and he's a performance artist. Later in the show he's going to explain what performance art is.
OK. Around this time, I can feel my face flushed red. My sphincter is tightening…
Bill then invites Soy to sit down on the couch next to Robin Young.
OK. I'm as good as fired. I just know it. I am not going to survive this.
At this point, Robin Roberts turns to Bill and says, "You brought me back for this?"
OK. My career begins flashing before my eyes.
Once Soy was safely seated on the couch, I slowly began to recover. Robin and Bill had moved on to teasing what's coming up in the show, and Mr. Bomb did not appear to be planning any of the nefarious activities that were racing through my mind during the longest segment I ever experienced in my TV career.
By the time we got into the first news package, I was horrified.
This had to be the most heinous two minutes of live television ever produced.
That's how I was seeing it. Judge for yourself.
I am still horrified… even after all these years. I assume a fetal position and begin babbling unintelligible gibberish every time I revisit this moment in my career.
Fortunately, GMAS did not air "live" in New York City. It aired an hour later on tape delay. So, my only consolation was that my bosses didn't see this national crash & burn…yet. In a moment of panic, I had everyone shoot a revised first block "live" at the top of the next hour, so New Yorkers never saw that soggy soy mess that so bombed on our air.
In retrospect, it was awkward, an idea that didn't really pay off, but not worth the heart palpitations I get every time I see that clip. Robin and Bill handled it beautifully, they were complete pros, and yeah, it was a little bit weird, but it wasn't the end of the world I had imagined. I've caused catastrophes on-air before – like the time I invited John Wayne Bobbitt (the guy who's wife cut off his penis) to tell his story on The KTLA Morning News.  But this was different, and it took me years to figure out why.
I was in my mid-30's when I was EP at GMA Sunday, rather young for an ABC EP. I had just come off the most successful local morning show in existence – and was a walking symbol of "changes coming" at the network. I was hired by the David Westin camp at a time when Westin and Roone Arledge were in a battle for control of the news division. This was also around the time of Westin's tabloid sex scandal which was front page news regularly on the New York dailys. There was a lot of politics at play. I didn't fit in with the others. And I deliberately did not join in any reindeer games.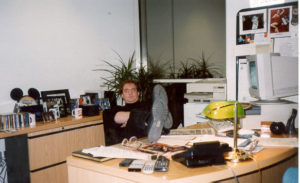 ABC was a suit and tie operation. I wore jeans on my job interview. Not in an attempt to buck the system, but to simply make it clear that this is who I am and you can take me or leave me. I wasn't going to assimilate into the organization the way it was assumed I would. I was a nice guy, I didn't yell and scream and threaten and throw chairs to get my way, which was how business was done by the EP's in those days. My direct reports didn't know how to connect with me because they were expecting anger and threats, and I didn't operate that way. I've always buffered my direct reports from the b/s that was coming from above me. I didn't want that vitriol bleeding into the show.  So consequently, a lot of my co-workers wanted to see me fail. The lighter tone in the Sunday show was being noticed around the network- and not everyone was embracing it. I felt the Soy Bomb incident gave them ammunition against me – and that's why, after all this time, I now realize why I overreacted (in my own head) to that segment.
Forget Soy Bomb. The real game changer was Vacuum Boy (see below). Some day when I get out of this fetal position, I'll tell you about that one!