My favorite show of all time… don't judge me!… The Sonny And Cher Comedy Hour. Even now, 40 years after it first aired, it is mesmerizing to watch. And the reason it is? Because the show is nothing but the sum of all its parts. None of those parts could stand alone (and they tried in later years). Cher was OK at best. Sonny was just plain sad – but his lack of talent didn't stop him from having his own prime time variety show!
The comedy skits and writing were "mildly amusing". The music was atrociously annoying '70's retreads ("I've Got The Music In Me", "Baby Face"). C'mon. Even "I Go You Babe" is like fingernails on a chalkboard, but when all the
elements are put together, when Cher is atop that piano doing her Vamp segment, or Sonny does one of his awkward pratfalls, or Chastity comes on stage to say good night to the audience, the show has an indescribable, hard-to-put-your-finger-on appeal. There's warmth. It's genuine. It was an underdog. There's that "this show is a piece of shit but let's do the best we can with it" gleam in the eyes of everyone on that stage. Look for it. You'll see it. And they pull it off. Even with the early blue screen effects that just barely worked, and the signature bickering which opened the show, I always felt that I was "in on the joke". The color is vivid and bright – dripping with contrast. No shows this old appear so beautiful on screen. And even after seeing it originally air first in 1971, all this time later, I still can't tell you why. It's brilliant – and why – still escapes me.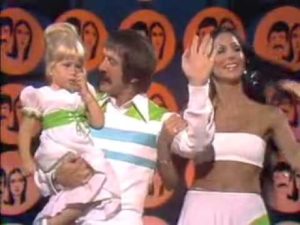 That show, in a round-about way, is why I came to be a TV producer. And more specifically, the type of TV producer I've become. Personality-driven. It's obvious that Sonny and Cher fueled their show with 100% personality. Without it, nothing they did on screen would have worked. I often wonder if their team of producers and directors knew what they had in that pair, or if it was all just a happy accident.
Little things about this show grab my attention. The show open music – when the trumpet first belts out "The Beat Goes On" is spine tingling. Then the drum role and the announce:
"Ladies and gentlemen – Sonny and Cher!"
Awesome. Listen closely to the announce. Oftentimes, the guy lifts his voice just slightly when he says "Cher" and his urgent pronouncement just builds the excitement. I realize
this is small, petty stuff, but combined as a whole creates a unique show. Even the later green-screen video of Chastity getting on the commuter train and bumping into that night's guest stars is clever. This show created so many "signature segments" that made it stand out from, say, The Brady Bunch Variety Hour which depended solely on the popularity of its cast. S&C broke out with the signature bickering at the open which was brilliant, the Vamp music/skit segments which ended in all the characters and actors appearing together in front of a giant green screen – cheezy today but a technical feat back then! Three Chers and Sonnys, and duplicates of the guest stars – so cool. Cher also had the habit of slightly breaking from character when things became really funny or didn't go as planned. Nobody did that before. And the solo Cher performances were over to top although played as a classy performance segment. She would wear ridiculous outfits and sing sweeping love ballads her voice can't possibly do justice to (like all thr ABBA covers on her latest album) – and yet it became a highlight of each episode.
I learned a lot from The Sonny & Cher Show. And even more in the 25+ years I've been producing my own shows… some successes, some not so much. I started this blog because I want to put it all out there. I want to share my philosophy about producing shows that are carried by its hosts and not by its content. How to transform yourself into a great personality. How to become a producer who can allow the show to "just happen" and grow into its own. Whether you're a news anchor, a TV host, a weatherman, a network CEO, a producer, director, PA or intern, my goal is for you to walk away from this blog with something new. Something to think about. Something to try for yourself.
And even though the story of Sonny and Cher (and Chastity) didn't turn into an American fairy tale by any stretch of the imagination, they had their moment of TV brilliance. Now it's our turn.
"Good night everybody, God bless you!"