Author Daniel Pink once pointed out that in this new digital environment, there are essentially two types of video content:
INTERSTITIAL MEDIA – it's programming that viewers watch to fill spaces in their lives. 15 minutes in a line at the grocery store, a half hour on the train. These are what's commonly referred to as "phone shows" – a smartphone screen does just fine playing this content.
INTENTIONAL MEDIA – these are the few and far between shows that you plan in advance to watch on your 65-inch living room screen. You want to savor the experience. An obvious example would be Game of Thrones which requires a large screen and a killer sound system to  take in the complete experience. There are what's called "couch shows".
The intensity of your experience with interstitial and intentional shows varies depending on your consumption mode. And remember, one person's phone show is another person's couch show, so the two terms don't make any judgments on the quality of the programming.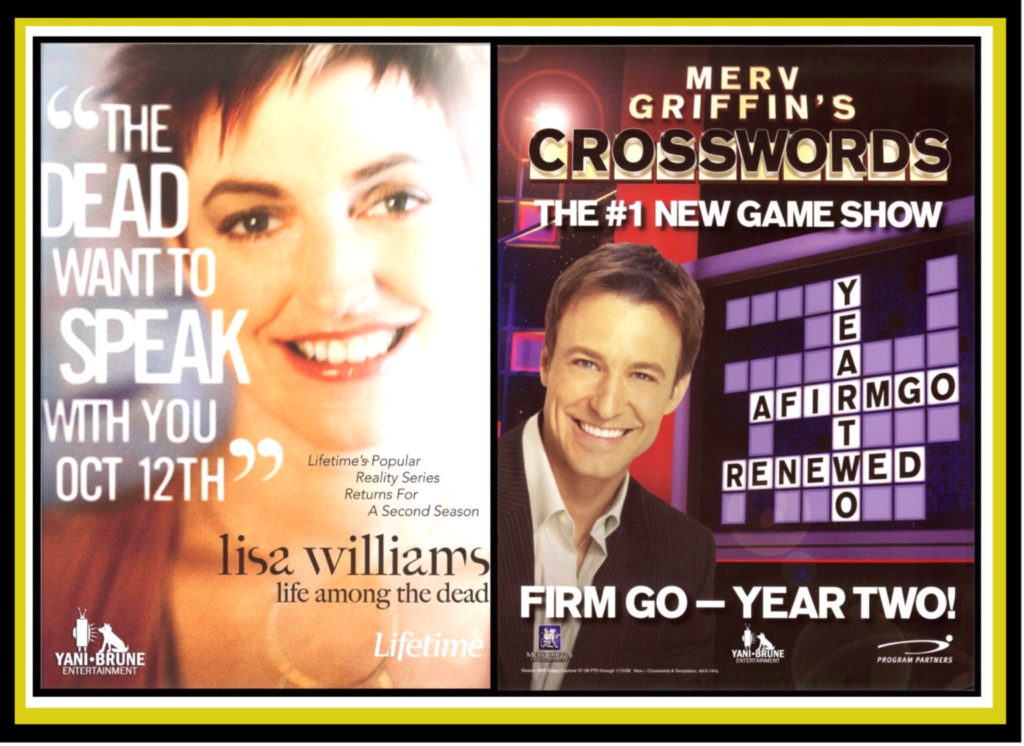 I create and produce both "phone shows" and "couch shows". One I consider a definite "couch show" is Lisa Williams: Life Among the Dead",  a two-season series which initially aired on Lifetime. Lisa and her gift have touched millions of people – both living and dead! Me included – I wrote an entire book about my experiences producing Lisa's series. Lisa's jaw-dropping abilities are second to none and working with her for those three years has dramatically changed the way I view my life.  The secret to creating a show like this one is simple – finding a jump-off-the-screen personality like Lisa (that's the tough part), and putting her in situations that allow her to shine. Here's some awesome scenes from the never-aired pilot:
And here's a look at the premiere episode:
Lisa is famous world-wide now and performs incredible "stage shows" on every continent.
---
Another "couch show" I'm very proud of is Second Verdict. This courtroom docu-drama aired on PAX during a rough period in that network's history. PAX was transitioning from religious programming to docu-dramas and in the process essentially lost its entire audience. Consequently, Second Verdict hasn't been seen by a wide audience – and that's unfortunate since the people who participated in the show were gripping, engaging television at its best.  I created the series and wrote every episode. Here is one of my favorites:
---
Very recently, I moved into the genre of comedy. I was hired by the richest man in Australia to produce an 8-episode series following him anonymously doing a stand-up comedy tour across the United States with three other comics. Done in participation with the L.A. School of Comedy and longtime friend Sunda Croonquist (who also appeared in Second Verdict),  here is a pilot/sizzle – I can't show you the completed episodes – of a "phone show" I wrote and edited myself:
---
And another "phone show" favorite is the 275 episodes we shot of Merv Griffin's Crosswords:
---
As a development executive when I was Head of Television for Merv Griffin and his TV empire – and Vice President of News for E! Networks International, I've taken countless pitch meetings – and – conversely, I've pitched every major network and sold shows to ABC, CBS, NBC/PAX, Lifetime, and VH1 among others, and also played the NATPE game selling shows into syndication. These are the caliber of shows I do. If you've got a concept you need developed and produced, maybe you've got talent you need a show created around, or you simply need ideas – I can get your goals into development. Let's talk.  Contact me.