I've been fortunate enough to meet three true "Grand Dames" of Hollywood. I pursued one, ran in to another and made an appointment with the third. I was hoping to convince each of them to be part of a talk show I wanted to call Hollywood Dames. It's best described as a "skewed View featuring four broads who have been around the block…and then some." My sales pitch went something like this: 
Nothing and no one in Daytime Talk can even approach their collective life experience. They've seen it all – and they're still living it.  We debated calling this show "Hollywood Mouths" because these ladies talk, they kiss & tell, and giiiirl, can they be catty! If we were to play "six degrees of separation", there's barely a single name in Hollywood or Washington beyond their reach.  They've either worked with them, partied with them or slept with them…
I've had various levels of success pitching the idea to the ladies I wanted to be "lead host" on the project.
At the top of the list was Suzanne Pleshette. I love Suzanne though I only got to meet her once! From her marriage to Troy Donahue to her starring roles in films, TV and stage, Suzanne knew where the bodies are buried – and was more than willing to talk about them. The Old Hollywood stories she shared with me are unrepeatable – they're only stories she could tell. And they would make for amazing TV.  We talked for about two hours – and she was totally "in". I was elated and walking on air – her agent awaiting my call. Before I set out to contact the other ladies I wanted to complete the panel, I received word that Suzanne had to drop out due to health problems. She was so spunky and full of life when I met her and husband Tom Poston in Beverly Hills. She was in a running suit and white sneakers and she was so cute and huggable. But she would soon be diagnosed with lung cancer, which would ultimately take her life. Without a lead host like Suzanne, the rest of my "dream cast" wouldn't work. So I put the idea on hold.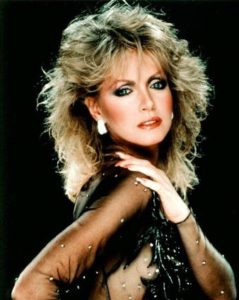 Several years later, I happened to run into Donna Mills in Burbank. She looked amazing. We chatted for a few moments while, inside, my head was spinning as I realized she'd be the perfect lead for the shelved Hollywood Dames show. I slowly worked up the nerve to ask her, "Have you ever thought about hosting a talk show?"  Her answer was just as blunt. "Absolutely not". The woman has made countless films and TV appearances. The last thing she'd never want to do is commit to a daily talk show – and I can't blame her. So I didn't attempt to do much convincing. It's a loss though. I've worked with her in the past at KTLA and elsewhere and Donna's a delight to be around.
My most recent attempt at casting the lead to this whimsical show is the ultimate Hollywood Diva, Joan Collins. I met Joan in a Burbank hotel suite where I was given some time to pitch her the idea. But no go. Her schedule would never allow her to commit to a daily talk show. So yet again, the Hollywood Dames idea would be indefinitely shelved.
Fast forward to today. I have a deal in place with a fourth "Grand Dame", whom I can't name at the moment – a household name and someone you've seen all over the TV screen.  While I'm not someone to gush over celebrities, I love this woman and have been watching her films and TV series for as long as I can remember. I'm so thrilled that she, a former co-star of hers and myself are partners in a new talk show we're currently out selling. It's not based on the Hollywood Dames idea at all – it's completely built around the two of them. And I think it has a really good chance at a sale. So while I'm sad that I'm pretty much giving up on the Grand Dames of Hollywood talk show, there's always going to be another show. And producing this pair would certainly be an honor!
Updates to come…